We apply the same strict quality rules to our own product manufacturing as required form all contract manufacturers. Our products are manufactured according to the so-called Hazard Analysis and Critical Control Point (HACCP) guidelines and Good Manufacturing Practice (GMP) standards. All products comply with required quality standards as imposed by the European Pharmacopoeia (Ph. Eur.).
Aeskulap-CA-Statin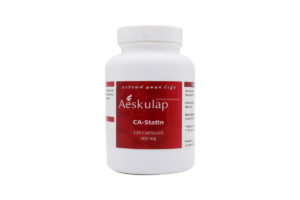 Aeskulap-CA-Statin (ACAS) Aeskulap-CA-Statin (ACAS) contains a proprietary extract of the common bindweed (Convolvulus arvensis), comprised of various proteoglycan molecules in combination with proprietary extracts from the following three medicinal plants: Corydalis rhizome (Corydalis yanhusuo), Lycoris radiata and Patrinia heterophylla. Aeskulap-CA-Statin significantly inhibits the growth of abnormal cells and new blood vessels (angiogenesis), necessary for cancer growth. It also has a distinct immune-stimulatory effect.
Since Dr. Folkman hypothesized that controlling angiogenesis could be a feasible anti-tumor strategy, clinical oncology has seen an ever growing interest in angiogenesis inhibitors as anti-tumor agents. Because of anecdotal reports of clinical benefit for cancer patients after consumption of extracts from common bindweed (Convolvulus arvensis) by researchers from AIDAN Corporation, USA – we started to test various extracts of this plant for their anti-angiogenesis and immune stimulating effects. From 2001 until 2012, we continued to improve the extract process and combined the Convolvulus arvensis extract with extracts from Corydalis rhizome (Corydalis yanhusuo), Lycoris radiata and Patrinia heterophylla, which resulted in an even better efficacy. The initial work of the AIDAN research team is best summarized in the following article, which describes the biological properties of the Convolvulus arvensis extract, as well as its clinical potential and possible side effect Profile.
Aeskulap-MCP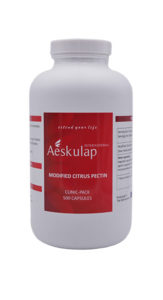 Aeskulap-Modified-Citrus-Pectin (AMCP) Aeskulap-Modified-Citrus-Pectin (AMCP) contains fractionated, heat- and pH modified pectin, a complex polysaccharide obtained from the peel and pulp of citrus fruits. AMCP is rich in galactoside residues, in particular β-galactose, known to have strong affinity for certain types of cancer cells.
The galactoside-containing carbohydrate side chains of AMCP can mimic or compete with natural ligand(s) of the so called tumor galactoside-binding protein, galectin-3, found on cancer cells, affecting cellular interactions relevant for metastasis.
AMCP also exerts immune stimulating effects in humans, increasing the activities of cytotoxic T cells, B cells and NK cells.
In search of naturally occurring substances useful in the treatment of cancer metastasis, modified citrus pectin (MCP) has emerged as a promising anti-metastatic drug candidate. MCP has been found to be effective in vitro and in vivo against various cancer entities, such as prostate- and breast carcinoma, melanoma, colon carcinoma, multiple myeloma, and hemangiosarcoma.
Aeskulap-Sitosterol-Mix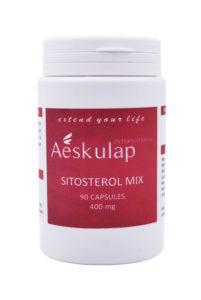 Aeskulap-Sitosterol-Mix produced by Aeskulap-International AG's compounding contract pharmacy in Switzerland. This phytotherapy drug is individually prescribed for each patient and manufactured as so-called "Magistral-Rezeptur" (prescription magistralis) for the treatment of prostate cancer.
Our doctors and researchers have tested this product both in the laboratory and clinically. We will gladly provide you with the results of these independent tests upon request. The most significant results follow here in Brief:
Aeskulap-Sitosterol-Mix contains only components as prescribed by a physician.
Aeskulap-Sitosterol-Mix can be used in conjunction with conventional treatments for prostate cancer, for example, in the perioperative setting with radical prostatectomy or prior, during and after radiation treatment and chemotherapy.
Aeskulap-Sitosterol-Mix is an integral part of our treatment program for treatment of prostate cancer, even in the so-called castration resistant stage.
Aeskulap-Sitosterol-Mix is used in combination with ProstaSol, Curcumin combi extra forte, IMUPROS, and BIOBRAN by doctors within our network to treat prostate cancer of all stages, in particular also metastatic and castration-resistant variants of the disease.
Aeskulap-Sitosterol-Mix, used at the prescribed dosage, is usually well tolerated. Neverthe-less, about 25-30% of treated patients may notice some breast nipple soreness and slight breast enlargement, with treatment. Impairment of libido and erectile function and some stool softening has also been reported. All side effects are reversible upon dose reduction and discontinuation of treatment.
Although there are no so-called placebo-controlled, double-blind studies for this product and its application in the treatment of patients with prostate cancer, there are well-founded pre-clinical studies, as well as two retrospective clinical studies evaluating the effectiveness of Aeskulap-Sitosterol-Mix in prostate cancer.